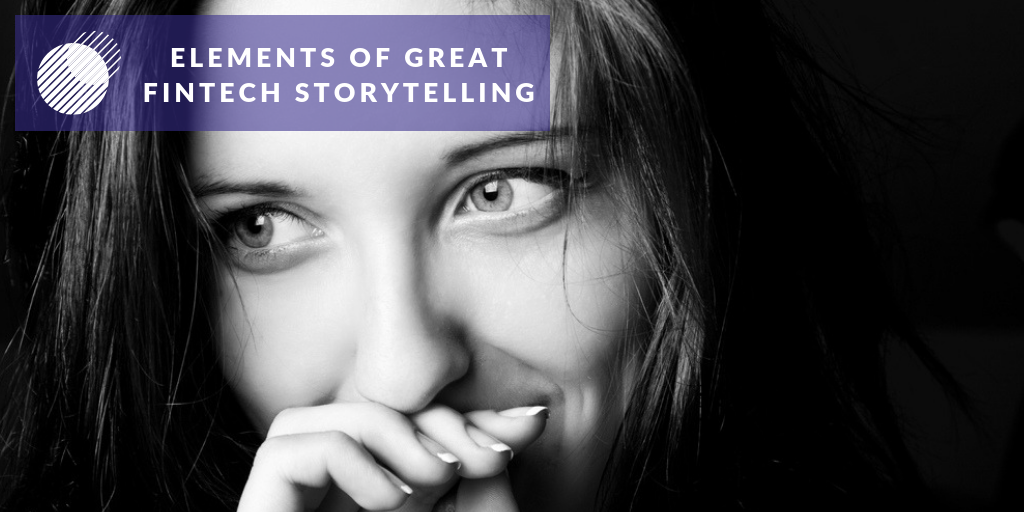 This article is the fourth in a series that will deep-dive into the world of fintech storytelling. It is authored by and based on the experience of our CEO & Chief Storytelling Officer, Ashley Poynter. View part 1, part 2, and part 3.
Quick recap: As B2Bs, fintechs face a compound problem. They must also tap into buyer emotion to forge a connection with prospects. As part of a complex and disruptive industry, fintechs also need to surmount credibility, trust, and education hurdles. Not owning one's fintech narrative is a brand-killer.
Fintech Storytelling: Elements That Add Meaning
We know fintech storytelling is important for customer acquisition. How do you create those stories? First, remember the goal should be to address those three big stumbling blocks to customer acquisition. That is: 1) build credibility, 2) earn trust, and 3) educate prospects by highlighting the intersection of your their pain points and your solution.
To do this well, you must focus on creating stories that resonate with real people. This starts with using:
Humanity
This can be a tall order for B2B fintech storytelling; the fintech sector is a complex ecosystem with lots of moving pieces. It's easy to have a gut reaction that says "Let's explain those moving pieces". That's not wrong, but it can be enhanced.  
For example, let's imagine you're a company that offers gift card management services. Which of these is more likely to create or increase the emotional connection a prospect feels with your business:
1) A web page or a white paper that outlines the complex gift card supply chain, or
2) A story that follows the journey of a gift card during the holidays. Our main character— a retail gift card manager named Megan— is frantically pacing her office after receiving a call that there was a snafu at the gift card printer. She's now wondering how she's going to deal with a missed gift card shipment right before the busiest holiday shopping weekend of the year. Then, she remembers she's working with "Gift Card Heroes", the best gift card management company. She calls Sasha, her trusty rep, who promptly heads over to the printer and figures out a solution. Then we see Megan, receiving her boxes of gift cards and placing them on the pegs as anxious consumers wait outside the glass doors of her store at 5 a.m. on Black Friday.
Both content types have an opportunity to present information about what the gift card management business does, but one is tapping into the humans behind the machines, mechanics, and processes. It's much simpler than making people digest the mechanics of how the company helps retailers navigate the complex supply chain. That information is important, and you probably need to have content that outlines that workflow somewhere. But also be looking for ways to breathe a human element into this offering.  Remember: while you're selling to businesses, those businesses are comprised of real people that are impacted in real ways by how efficiently their business operates.
Tone & Voice
This is often overlooked in the B2B space, which loves to lean more towards an authoritative style. Again, there's a time and a place for that tone. I think it behooves businesses to—at a minimum—consider a playful, humorous or otherwise-unique brand tone and voice in fintech storytelling. This helps create engaging stories that an audience can (and wants to) relate to.
Tension & Conflict
Don't shy away from building up tension and creating drama. There's no need to go overboard, but all great stories have an element of tension. That is what pulls the audience in and gets them engaged. Also, since stories should address your target buyer's most pressing problems, you should be keying in on those problems in your story. It's also what gears you up to present the solution: what your company offers.
Vulnerability
This word often gets mistaken for an airing of failures and weaknesses, when it's really a highlighting of strength by allowing a business' true colors to be seen. Bottom line: it's needed to tell good stories and businesses are not exempt. This one is closely tied to embracing the humanity element of a story but goes a step further. How can you use instances where your business has pivoted, took a gamble that didn't pan out, or learned something that may be of use to your audience? Don't be afraid to share that because that can create some of the deepest engagement with and loyalty to your brand.
For Example: founders, is there something in your personal journey to building your company that you can share with your audience? Maybe you decided to change direction with a product and it didn't end up entirely as you'd hoped it would. Yet you lived through it, picked yourself up, dusted yourself off, and course corrected to offer an even better product. You probably learned some valuable lessons from that experience. Why not find an interesting way to share that information? It shows a willingness to put yourself out there and offers people a peek inside a growth experience you had.
Here's why a willingness to be vulnerable is a strength and not a weakness: a landing page that says "We'll do whatever it takes to help you succeed" does little to convince a visitor that you are capable of anything. It's a tagline in a fancy font. But a story that pulls the audience along on the journey you lived and that highlights the lessons you learned in an authentic way inspires trust and credibility. Displays of vulnerability in fintech storytelling give more depth and weight to who you are as a business.
Gumroad, an online platform that enables creators to sell products directly to consumers, is a great case study in vulnerability. Gumroad's founder, Sahil Lavingia, recently published a Medium blog titled "Reflecting on My Failure to Build a Billion-Dollar Company", which very elegantly speaks to his experience as a founder and what he learned along the way. He describes how he went from being "on top of the world. I was just 19, a solo founder, with over $8M in the bank" to laying off 75% of his company (including close friends) all the way back to being a one-man show. It's a great example of both humanity and vulnerability that adds value.
He actually tapped into vulnerability before this article was even written. After the layoffs, he began publicly sharing Gumroad's financials so that "Founders starting their own companies could learn from our mistakes, utilizing our data to make better decisions". Big risk, right? That risk paid off. The result was that more investors starting taking interest, the platform gained wider awareness, and the people who use that platform felt a greater sense of community.  
While those are some pretty grand examples, vulnerability comes in smaller packages, too. It's as simple as keeping it real, which leads to the final element: Honesty.
Honesty
Tell the truth. Don't embellish or outright lie. Truth makes for the most compelling, effective stories. Also, when you embellish, you risk someone calling you out. This can turn into a whole PR crisis, which requires an entirely different set of storytelling skills.
Stay tuned next week for the following part of the series. In the meantime, download our Fintech Marketing Playbook to get a winning strategy for fintech storytelling that achieve desired business objectives.