Last Updated on April 23, 2019 by admin
No one likes to suck at email marketing. Unfortunately, it happens often. Email marketing should be a part of your content marketing strategy…and done well. The graphic below highlights 5 quick tips that you can do right away. Also, the title to this post is deceptive….because we've included four more bonus tips to help you win at email marketing below the graphic. Enjoy.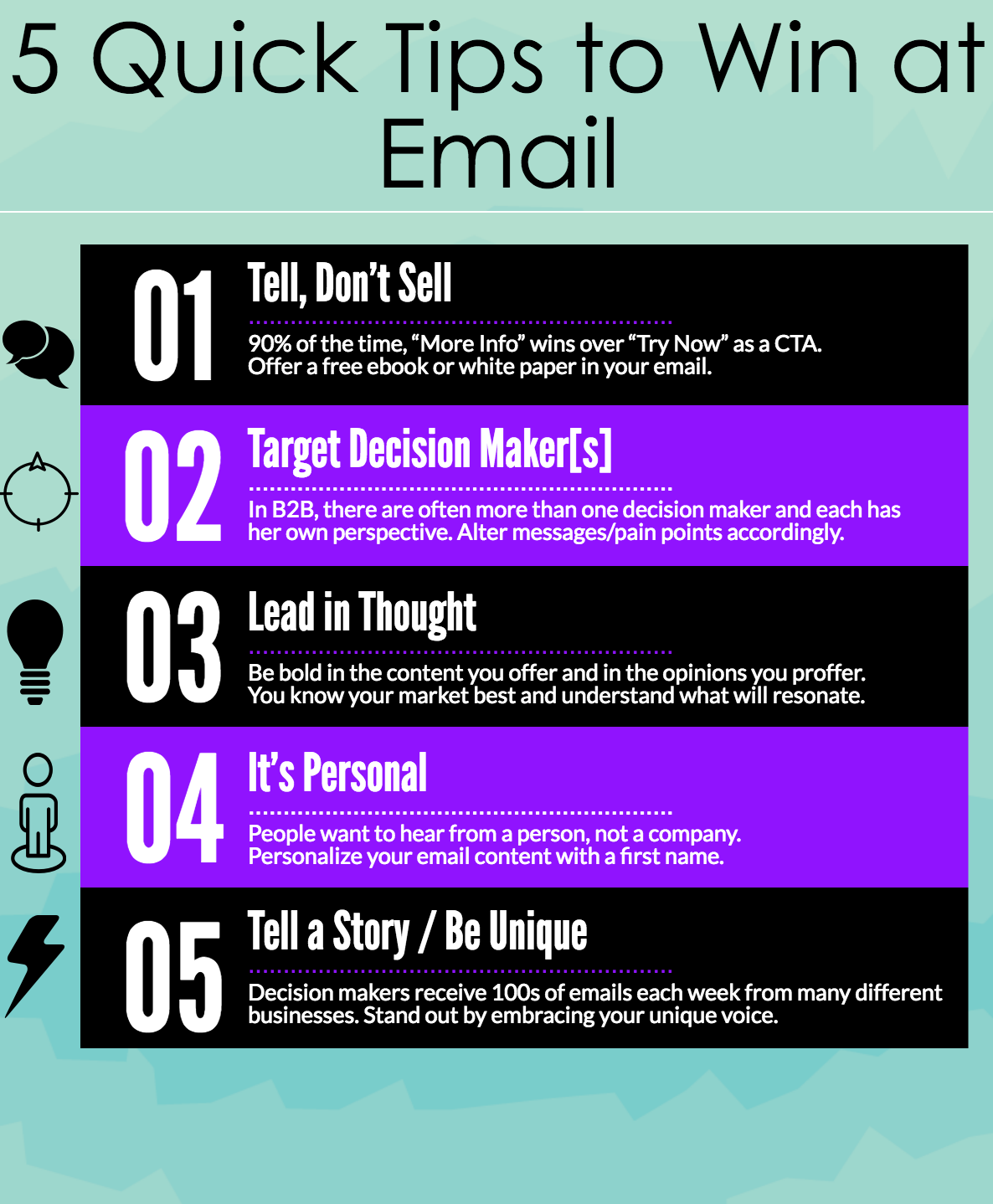 #6 Test your cadence but analyze carefully  
IBM Marketing Cloud's annual report of email marketing benchmarks points out that marketers should keep the big and little picture in mind when looking at metrics during frequency testing. If you ramp up your frequency, it's possible to see an overall increase in opens and clicks (you're sending a higher volume of emails, so this makes sense) over a specific time period. However, if you look closely at the metrics of individual messages/campaign, you may see a decrease. Neither of these indicate the success or failure on their own. It's important to look at the metrics on both a large-scale level as well as on a per-send basis to get the whole picture on how your email marketing is performing.
# 7 Get a grip on images
It's almost a paradox: great content typically includes a visually appealing element. Infographics perform well on social media, videos perform well on websites and stunning photos perform well on blogs. The one place that too many graphics can be overkill? Email. Hubspot reports that the clickthrough rate of an email is inversely related to the number of images in an email (Hubspot, 2014). That doesn't mean you need to nix images completely, but if you're pushing past the 60/40 limit, reign it in. Best practice is to maintain a text-to-image ratio of 60:40.
#8 Snappy Subject Lines are a Must
This tip is closely related to the point about personalization. People want to feel as though the email was written for them. Use first names in subject lines where it makes sense or find other ways to make subject lines more "special." Admittedly, there is a fine line between too cutesy and just right, but don't be afraid to test and see what works for your company. Each audience is different and if you're segmenting (hint: you should be), a subject line that doesn't work for one audience might work for another. According to MarketingProfs, almost half of marketers report testing alternate subject lines to optimize performance.
#9 Make it Mobile
Hopefully, we're preaching to the choir at this point in regards to the importance of a mobile-first strategy. Depending on a few variables (product/service, target audience and email type), mobile email will account for up to 70% of email opens.  What does this mean for marketers? It means they better have a mobile-aware/responsive email design. It doesn't stop there; websites need to be responsive as well. If a person clicks through an email to a website that breaks on mobile, they're going to bounce (and be annoyed). Marketers also need to remember that, depending on the nature of the email, the content shouldn't be overwhelming. Clear, concise, bite-sized paragraphs that are easy to scroll through and understand are essential.
Email can be a great way to communicate with customers, engage with prospects and nurture leads through the funnel. When done correctly, email provides a significant ROI – a study conducted by the Direct Marketing Association and Demand Metric reported that email has a median ROI of 122%. Start with a solid email marketing strategy and continue to test…everything. Optimization requires continued testing and analysis, but the long-term results speak for themselves.